So, this week I am going to explore the world of domain names. Specifically I will write about the weekly launch of the New gTLDs (otherwise known as domain name extensions) and will ask why we need them? Domain name extension (gTLD) refers to the end part of the domain after the final dot e.g. .com or .co.uk
The date: October 1984…
Since the beginning, when domain names were introduced, we have all known about the most common gTLD's (generic Top Level Domains) – these include the following
We are going to focus on the gTLDs that anyone can register which include the top three above plus a multitude of, what are referred to as, ccTLDs (country code Top Level Domains). The main one that we, here in the UK, are most used to is .co.uk and most recently .uk ccTLD which was just released last month.
Enter the new gTLDs
Just as individuals and businesses are getting used to the world of the most common gTLDs and ccTLDs the domain name industry explodes with a plethora of new gTLDs – so if you are a lighting company you could register your business name
brighter.lighting
central.florist
cornershop.coffee
pension.expert
football.club
internet.buzz
topdog.ceo
So now enter in the region of 1300 new gTLD extensions and you have a minefield that needs careful navigation indeed it is likely that general domain registrations may drop slightly as businesses and individuals take a breather whilst getting educated on the opportunity that is presented before them.
New Business Opportunity
Just like in the dotCOM boom times and subsequent bust times the "bust" part was short lived. Many domains were dropped worldwide as faith was lost in this new internet revolution. However for a few this was the moment to make their move and claim their position at the forefront of their chosen sector. They could do this with certainty as being new technology we were all just learning. That certainty is a clear winner as the internet is here to stay – I am sure we all agree on that part.
However, do we really need all these new gTLDs? Well if you review the population of the world (7.1 billion) vs internet usage (39% internet users) it is clear that the need for new gTLDs is only going to increase in demand as people and businesses worldwide get connected and become more internet savvy . See more about global internet usage. The need for these new gTLDs is going to increase year on year.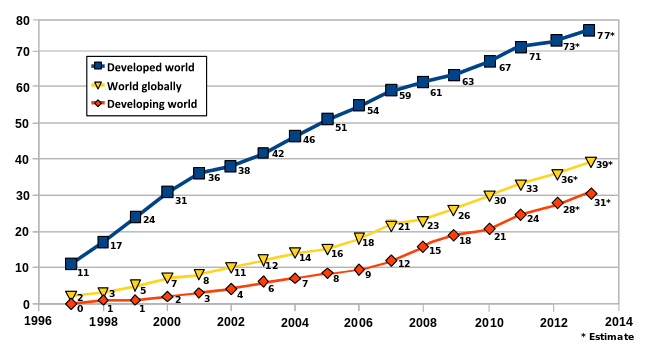 What action should you take?
My advise is to take a moment to review your business and its online reputation / online exposure. During this process your website and the URL (Domain name) you use should also be reviewed.
Step 1: Ask yourself  the following questions…
How would a client describe our business?
Does my domain describe what we do?
Do we "own our sector"? i.e. are we perceived as the leader to our clients?
Do you have a trademark to protect?
Step 2: Go to your own domain name registrar and take a look at what domains are free that may benefit your business or yourself as an individual.
Step 3: Register it and start to use it for marketing purposes or as your principle domain name.
So there you have it 1300 new gTLDs are hitting the market, as at today's date 326 have been released and are on General Availability.
Get in touch if you would like some assistance with this process. We can guide you on where the opportunities are for your business and create a strategy that is aligned with your business needs.