Keeping your website content organized matters a great deal in terms of:
how it affects user experience, and
in improving your search engine rankings.
A well-organized site helps your site visitors to navigate the website quickly and easily and find the information they need. This gives a positive impression especially to people who visit your site who have very short attention spans and expect to be able to access information at the click of a mouse.
An organized site also helps people to discover your site more easily by improving your SEO. First, organizing your site and making it clear and easy to navigate encourages more visitors to stay on your website. This lowers your bounce rate, the percentage of visitors who land on your website and then leave the page without navigating further into the site. The lower your bounce rate means that more people are staying on your website. Google and other search engines rank sites with low bounce rate higher in search results since that's usually an indicator of a good quality site. Second, an organized site gives your website a clear and logical structure, making it easier for search engine bots to understand your website and rank each page appropriately. Search engines use bots, also called spiders, crawlers or robots, to find content on the Internet from within individual web pages. These bots crawl your website following every link found within the site. If they can't understand the site's link structure, or can't reach certain pages easily, then those pages won't be added in the search engine's index or database and won't be included in relevant results to a visitors query, which, in turn, will make these pages rank poorly, or not at all.
Organization in WordPress is associated with content types: pages and posts.
Organization for Pages
Pages in WordPress are arranged through hierarchical organization. This means that pages have a parent, child and sibling relationship. You can create a page as a parent and that parent page can have child pages and those child pages can have subpages and they create a multi-level hierarchy.
To illustrate Page hierarchy:
Create a New Page by clicking 'Add New' on Pages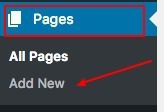 Under Page Attributes at the right-hand column side choose 'no parent' on the drop-down menu to make this page a Parent page.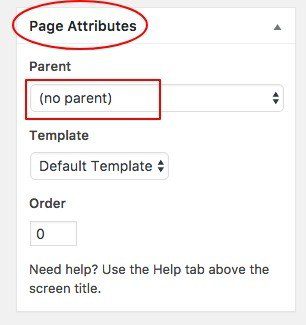 Now let's add another page. Then go to the Page Attributes section on the right-hand side and in the Parent drop-down menu select the Parent page that you want this page to fall under. Then click Publish.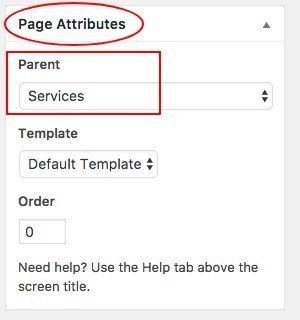 By selecting a parent, we've created a child page which is positioned underneath the parent in the page hierarchy.
So, when you click on 'All Pages' you can see that hierarchy on the screen as shown with the dash next to the page names. This is the structure of your site.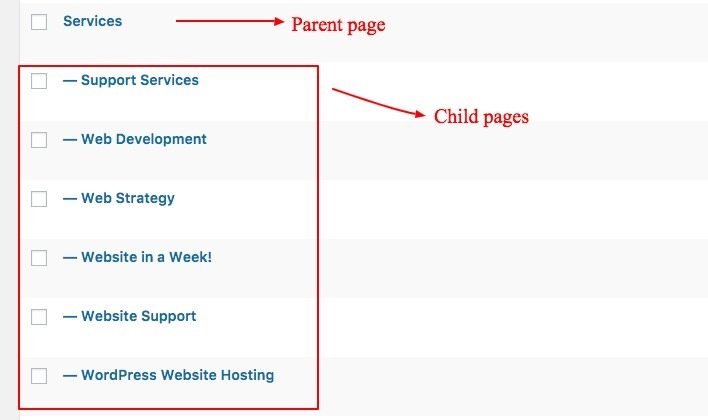 This hierarchical organization is the only kind of organization that we can make on Pages.
Organizing Posts
Posts are organized in WordPress by date, by author, by category or by tag.
Organizing Posts by Date
Posts are always displayed in order of published date, with the most recent posts first. As long as a post is in draft, it doesn't have a published date and cannot be organized by date.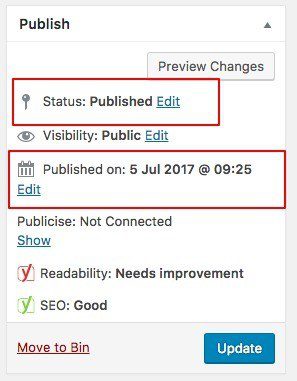 Organizing Posts by Author
All posts can be organized by author, displayed by author and can be retrieved by author. Authors are organized alphabetically.
Organizing Posts by Category
Categories organize posts according to topic or subject matter. Categories are also organized hierarchically just like Pages, so a post can have parent category or child category or grandchild category.
You can find Categories section in the right-hand side column of a Post.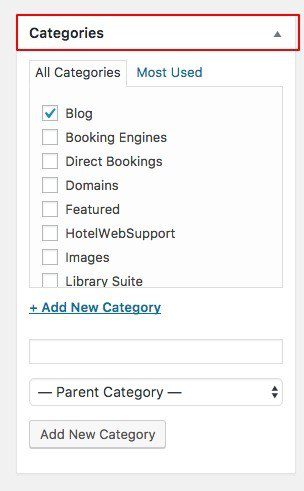 Organizing Posts by Tags
Tags are another way for sorting and organizing posts. Post tags are organized alphabetically by their tag name. The tag widget is displayed on the right-hand side column of a Post, right below the Categories section.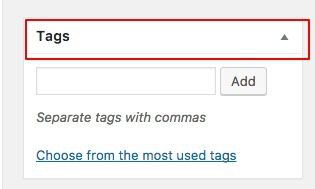 Categories and tags are an important way for both visitors and search engines to navigate your website content. Make sure that no category is the same as a tag and vice versa, all should be unique. It's also good practice to clean out your list of categories and tags the longer you blog to keep them updated and to keep your site organized.